Oki Electric Cable commences sales of "ORP-TW Cable", high-flexure robot cables featuring ultimate durability against twisting
- Improved durability against narrow-pitch twisting to support further miniaturization of robots and industrial devices -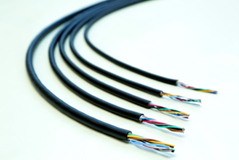 ORP-TW cables
Oki Electric Cable Co., Ltd. (President: Masasuke Kishi, Head Office: Kawasaki-shi, Kanagawa-ken, hereafter referred to as Oki Electric Cable) has developed the "ORP-TW Cable (*1)" series as a new addition to the "ORP Cable Series" high-flexure robot cables, featuring dramatically improved durability against twisting. This product will commence sales on 1 October.
The "ORP Cable Series" products offer excellent movement durability and are designed for the wiring of moving parts of robots and other industrial devices. This product series uses Oki Electric Cable's tough, proprietary elastomer insulating material (*2) with superior resistance against all kinds of movement modes such as bending, sliding and twisting (*3) while offering excellent cost performance. Since its release in 2009, the product has enjoyed great popularity among a large number of customers including robotic and industrial equipment manufacturers. In recent years, as a result of diversification and miniaturization needs of robotic and industrial devices with movable mechanisms there are more rotation mechanisms in such devices in even smaller spaces. This has created a tendency for more twisting of cables and/or increased stress on twisted cables. Demands are therefore increasing for cable products with higher twisting resistance.
The newly released "ORP-TW Cable" is based on the "ORP Slim Cable", the top-selling product among the "ORP Cable Series", features a new optimized structure for excellent durability against twisting. The "ORP-TW Cable" series offers up to 20 times higher resistance against twisting compared to the conventional "ORP Slim Cable" series. Furthermore, the "ORP-TW Cable" series has achieved a durability of 10 million times in a twisting fatigue test with a narrow twisting span (twisting pitch) of 100 mm. The product also offers a high level of resistance against bending and sliding making it suitable for use in complex bending/sliding parts with multiple rotation mechanisms, such as in the handling and arm sections of robots and other industrial devices.
Oki Electric Cable will continue its commitment to improve the product performance and expand the product lineups for further customer satisfaction.
Sales plans
Sales start period: October 1, 2017
Sales target: 100+ million yen in fiscal 2018
Varieties
Conductor size: 0.05mm2, 0.1mm2, 0.2mm2, 0.3mm2、0.5mm2
No. of pairs: 3, 4, 5, 6, or 8 pairs
* A lineup of 50 models including with/without shield is available. (To be released in sequence after 1 October)
* Customization is also available, including combining different conductor sizes, custom numbers of pairs/cores, etc.
Specifications
Rating: 105°C, 300 V
Flame retardancy: VW-1
Safety standard: UL758 Style2517
Twisting performance
[Twisting span (pitch): 500 mm]
| Cable type | (New product) ORP-TW cables | (Conventional product) ORP-SL cables |
| --- | --- | --- |
| Twisting performance | More than 50 million times | More than 20 million times |
* Twisting condition: Angle ±180°, Speed: 90 times/minute (to and fro)
[Twisting span (pitch): 100mm]
| Cable type | (New product) ORP-TW cables | (Conventional product) ORP-SL cables |
| --- | --- | --- |
| Twisting performance | More than 10 million times | More than 500,000 times |
* Twisting condition: Angle ±180°, Speed: 90 times/minute (to and fro)
Description of terms
*1:ORP-TW cables

?ORP: Stands for "Oki Robot Cable". TW: Derived from "Twist".

*2:Special elastomer

?Oki Electric Cable's proprietary synthetic resin material with rubber-like elasticity.

*3:Bending, sliding, and twisting

(1) Bending (Blue arrow in the left diagram): Bending motion in the same location
(2) Sliding (Green arrow in the left diagram) : U-shaped sliding motion
(3) Twisting (Red arrow in the left diagram) : Twisting motion in the same location