3-Ampere OKIFLEX (UL2651)
UL STYLE NO.2651 105degrees 300V
Features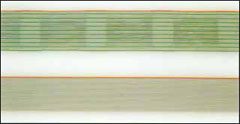 This product is available as a bridge type or a screen type. It is optimum for the drive circuits of equipment, and so on.
We also make F mark printed products to order.This product is environmentally friendly. The insulator does not contain specific bromide-based flame retardant (PBDE or PBB) or the heavy metals Pb, Cr6+, Cd and Hg. It also conforms to the RoHS (restriction of the use of certain hazardous substances in electrical and electronic equipment) regulations.
Applications
Ideal for the drive circuits of vending machines, control equipment, office equipment, and so on.
Shape
Characteristics
Conductor resistance /km
89.4(MAX)
Characteristic
impedance Ω
90(STD)
Insulation resistance -km
100(MIN)
Propagation delay*1 ns/m
5.1(STD)
Withstand voltage Vrms/min
2000
Near-end crosstalk*1 %
3.6(STD)
Capacitance*1 pF/m
56(STD)
Flame retardant characteristics
VW-1
*1 :The capacitance, characteristic impedance, propagation delay, and near-end crosstalk are measured in the GSG mode.
Method of expressing product name
FLEX-B ( )-7/0.2 2651
All gray apart from red side mark
FLEX-S ( )-7/0.2 7030 2651
Red - Gray - Gray - Gray - Green …
1st core wire = Red, 5nth core wire = Green, Others = Gray
1st Core, Others = Gray
*2 :

Enter the number of cores indicated in the configuration table in (of the aboveproduct name.

*3 :

Printed products can also be made
Configuration table
Number of cores
Conductor
Insulator
Span mm
Total Width mm
Wire pitch mm
Sandard length
16
7/0.2
(AWG24)
SoftPVC
23.85
25.44
1.59
61m/reel
(200feet)
20
30.21
31.80
26
39.75
41.34
34
52.47
54.06
40
62.01
63.60
50
77.91
79.50