High density (0.635mm pitch) Eco-OKIFLEX (UL2734)
UL STYLE NO.2734 80degrees 30V
This is an environmentally friendly non-halogen insulation type cable called Eco-OKIFLEX.
This high density type cable facilitates miniaturization of equipment.
Features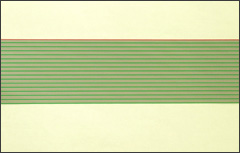 Due to the use of our unique technology, this cable has the same flexibility and electrical characteristics as those of conventional cables, despite the use of non-PCV/non-halogen resin for the insulation material.
This product is environmentally friendly. It also conforms to the RoHS regulations (which limit the use of specific substances contained in electrical and electronic equipment).
In order to meet the demands for miniaturization of equipment, this cable uses AWG30 (7/0.1mm) tin-plated copper wires, and the pitch of this flat cable (0.635mm) is one half of that of the conventional value of 1.27mm.
The cable can be easily pressure-welded to a high density IDC connector (1.27 mm pitch), reducing the necessary mounting space and also permitting multiple connections.
Like the conventional OKIFLEX series cables, the new cable is available as a bridge type or a sudare type.
Applications
Ideal for connecting equipment such as computers, peripheral equipment, communication equipment, and office equipment and also for internal fixed wiring.
Shape
Characteristics
| | | | |
| --- | --- | --- | --- |
| Conductor resistance Ω/km (20degrees) | 358 max | Characteristic impedance Ω | Standard 76 |
| Insulation resistance MΩ-km (20degrees) | 1 min | Propagation delay ns/m | Standard 5.0 |
| Withstand voltage Vrms/min | 1500 | Near-end crosstalk % | Standard 4.0 |
| Capacitance pF/m | Standard 80 | Flame retardant characteristics | VW-1 |
Item name, classification, and color of core wire
Item name
Classification
Color of core wire
FLEX-BN ( )-7/0.1 2734P
Bridge type
Red - Gray-Gray - Gray - Green - Gray …
1st core wire =Red, 5nth core wire =Green,Others=Gray
FLEX-SN ( )-7/0.1 2734P
Sudare type
Red - Gray - Gray - Gray - Green - Gray …
1st core wire =Red, 5nth core wire =Green,Others=Gray
Type configuration table
Number of cores wires
Conductor
Insulator
Span mm
Total Width mm
Wire pitch mm
Sandard length
20
AWG30
(7/0.1)
Flame retardant polyolefin

12.1
12.7
0.635
1reel 61m
(200feet)
24
14.6
15.2
30
18.4
19.1
40
24.8
25.4
50
31.1
31.8
60
37.5
38.1
80
50.2
50.8
100
62.9
63.5