Suppressing µ surge ⌈ecoSurge series⌋

Suppressing µ surge ⌈ecoSurge*1 series⌋
Pulse drive is used in a control motor, for example, so reflected waves resulting from impedance mismatching between the cable, motor, and control section are superimposed on the signal, resulting in surges which become high voltage noise surges. Surges contain high voltage components that are at least twice the normal drive voltage, so it is possible that the insulation may break down, stop functioning, or deteriorate, for example. It is therefore necessary to take measures against noise generation.
ecoSurge*1 C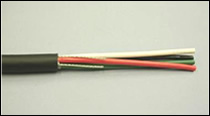 This cable suppress surges generated by the inverter motor in order to protect the motor damage and also to suppress noise.
ecoSurge*1 U
Surges can be suppressed by placing the surge suppression cable in a compact case and connecting the unit to the existing motor system.
*1 :

"ecoSurge" is a registered trademark of Oki Electric Cable Co., Ltd..