ecoSurge*1 C
Outline
Pulse drive is used in a control motor, for example, so reflected waves resulting from impedance mismatching between the cable, motor, and control section are superimposed on the signal, resulting in surges which become high voltage noise surges.
Surges contain high voltage components that are at least twice the normal drive voltage, so it is possible that the insulation may break down, stop functioning, or deteriorate, for example. It is therefore necessary to take measures against noise generation.
Features
The motor drive cable contains a surge suppression wire, and also there is no need for externally mounted high voltage or high current components, thus realizing low cost and space saving.
The O.D. of the cable is roughly of the same order as that of conventional products.
The absorbed surge is transformed into heat by means of the suppression wire, and the heat is dissipated by the entire cable , so there are no hot spots.
In contrast to the existing filter method which is used to pass the drive signals, this cable enables surges alone to be filtered, hence there is no voltage attenuation of the drive signal.
The cable permits EMI countermeasures due to surge suppression.
Waveform distortion is small, permitting high speed development.
This cable conforms to the RoHS standard.
Performance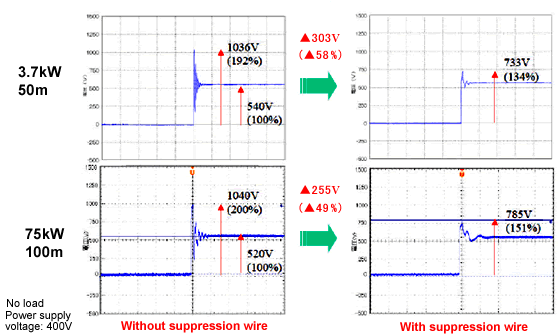 Surge suppression efficiency demonstration movie
This is the demonstration movie which shows the actual efficiency of the surge suppression by viewing the measured surge waveforms on an oscilloscope. An actual surge waveforms are generated at the inverter motor drive system and OKI's surge suppression cables effects the reduction on the surge generation.
Please click followings:
Applications
Prevention of motor impediment
Maintenance of motor of normally used system
Optimum for water pumping, and systems inside factories
Transformer (water pumping motor)
Steelworks (machining motor)
Hospital (air conditioning motor)
Super (air conditioning motor)
Elevator (traction motor)
Specifications
Item
Surge suppression wire
Motor drive wires
Conductor
Classification
Special plated copper alloy
2mm2
3.5mm2
5.5mm2
8mm2
Structure core wires/mm
1/0.24
37/0.26
45/0.32
70/0.32
50/0.45
Insulator
Color
Natural
Red, white, black, green
O.D. standard mm
0.81
3.4
4.1
5.1
6.1
Shield
O.D. standard mm
1.2
—
Sheath
Classification
—
Soft, oil resistant PVC
Color
Black (OKI color symbol: K)
Thickness standard mm
1.8
2.0
2.1
2.3
O.D. standard mm
Standard12.0
Standard14.0
Standard16.5
Standard19.5
Completed product
Standard length m
100
Electrical characteristics (drive wires)
Conductor resistance
Ω/Km max
—
10.4
5.65
3.63
2.57
Insulation resistance MΩ km
1 min
50
40
40
40
Withstand voltage V-min
AC2500
AC1500
AC1500
AC1500
AC1500
Surge generation voltage
(400 VAC 3-phase)
1000V max
(Surge generation ratio 50% max)
Measurement point: Between each of U, V, and W phases at the motor input terminals
Drive conditions: Inverter input voltage: 480 VAC max (50Hz)
Inverter carrier frequency ≤ 15 KHz Drive cable length 100m max
Construction
*1 :

"ecoSurge" is a registered trademark of Oki Electric Cable Co., Ltd.