Products Lineup
FPC for FPD (flat panel displays) Produced by our R-to-R Large, slim TV panel wiring series
Our extensive lineup of flexible PC boards uses a variety ofmaterials and configurations.
These products have excellent wire bonding characteristics and are also highly resistant to migration.
Single-sided FPCs
Single-sided FPC standard specifications
Type
Material
Thickness
(microM)
Cover layer
Polyimide adhesive
25, 50
35
Base material
Rolled copper foil,
Electrolytic copper foil
18, 35

Polyimide adhesive
25, 50
20
Heat sink
(For reference)
Overall thickness
123 to 190
Double-sided FPCs
Double-sided FPC standard specifications
Type
Material
Thickness
(microM)
Cover layer
Polyimide adhesive
25, 50
35
Base material
Cu-pating,
Electrolytic copper foil
15
18, 35
Polyimide adhesive
25, 50
20
Cover layer
Polyimide adhesive
25, 50
35
Overall thickness
251 to 360
Impedance matching FPCs
Optimum for high speed transmission and improved equipment performance
Along with the appearance of high speed transmission circuits in recent years, characteristic impedance is becoming increasingly important.
Oki Electric Cable can perform characteristic impedance matching by appropriately combining conductor width, distance between conductors, material thickness, and type of material.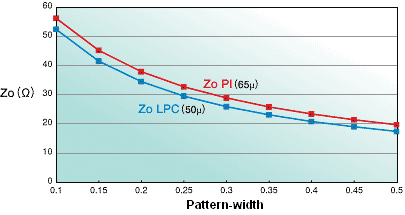 Earth friendly FPCs
We offer environmentally friendly FPCs.
In recent years, we have been engaged in environmental issues in our overall lifestyle.
We have a lineup of low outgassing FPCs which meet RoHS and can be used even in a vacuum, as environmentally friendly products.
1. FPCs that meet RoHS
We now offer products made by gold plating and the use of lead-free solder instead of the conventional leaded solder. Particularly, we use our own facilities for gold plating, so we can control and guarantee the quality of the entire FPC process.
2. Liquid crystal polymer material FPCs
Liquid crystal polymer is a generic term for wholly aromatic polyester polymers.
Features
Highfrequency electrical characteristics (low dielectric constant, low dielectric dissipation factor)
High speed transmission is possible
Water absorption resistance (approx. 40 times that of polyimide)
---Can be used in a location where it is exposed to water or moisture.
Low outgassing performance (0.03WVR%)
---Can be used in a vacuum.
Flame retardant, chemical resistance, etc.
Basic specifications
| Type | Material | Thickness µ > m |
| --- | --- | --- |
| Cover layer | Liquid crystal | 25, 50 |
| Bonding sheet | | 25 to 50 |
| Copper foil | Electrolyte, rolled | 18, 35 |
| Base material | Liquid crystal | 25, 50 |
| Overall thickness | | 93 to 185 |
Long FPCs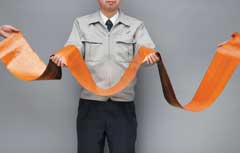 Light, multi-wiring module for large equipment
We can make FPCs10 m long without joints Particularly, these long flexible FPCs feature thinness, lightness and softness, making them suitable for multiple wiring in large equipment.
Because there are no joints, the FPC remains electrically stable in applications where it is flexed.
Layerconfiguration
Single-sided FPCs
FPC length
to 10000mm
Layer thickness (flexible part)
140µm (catalog value)
Base material
(copper clad laminate)
Copper foil 35µm
Polyimide 25µm
Cover layer
Polyimide 35µm
Line/Space
300/300µm
Hole diameter
300µm
Surface finish
Ni-Au plating
Chemical treatment
Rainforcing plate
Glass epoxy 1.6mm >
Polyimide 125µm
Configuraion
2 to 5 single-sided boards (pin connectorsoldered connections)
Bendability
At least 20 million times (Differs dependingupon the bending conditions)
UL
UL796, UL796F
Multi-layer FPCs
Optimum for multi-wiring in light, short and small equipment
High function is being demanded along with the increasingthinness and compactness of equipment and products in recent years. Amulti-layer FPC can be wired in confined spaces. Because it is of a multi-layerconstruction, it is ideal for multi-wiring. Multi-layer FPCs can be produced invarious configurations.
Oki Electric Cable makes optimum proposals to customers fromseveral kinds of configuration patterns.
Layerconfiguration
4 layers
Overall thickness
> 250µm
Base material
Polyimide 2-layer material, 3-layer material
Cover layer
Polyimide
Solder resist
Line/space 75/75 µm
Hole diameter
> 300µm
Surface finish
Ni-Au plating
Heat resistant preflux
UL
Possible
Flex-rigid board
Integration of flexible PC and rigid PC board
We have combined the softness of the FPC with the mounting stability of a rigid PC board. the resulting connector-less assembly (the cost of components and the work of purchasing and managing them are rendered unnecessary) enables man-hours to be reduced.
Also, because the flex-rigid board is integrated by means of through holes, it features high electrical reliability.
Configuration
4layers Flex-rigid board
Inner-layer: One double-sided FPC
Surface-layer: Two single-sided rigid board
6layers Flex-rigid board
Inner-layer: Two double-sided FPC
Surface-layer: Two single-sided rigid board
Max. dimensions
210x445mm
Board thickness
0.6t to 1.6t
Min. line width
0.12mm
Space
0.12mm
Min.hole diameter
φ0.3mm