Category 5E cable (stranded wire) TPMC-C5e350 series
Applications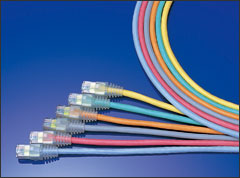 This cable conforms to the TIA/EIA-568-B.2 category 5e patch cord standard. It is intended for connecting patch panels in MDF or IDF to each other, connecting outlets and terminal equipment to each other, and so on.
Features
The patch cord uses stranded wire conductors, making for excellent flexibility.
A special conductor is used, resulting in excellent attenuation characteristics.
The covering is available in nine colors, facilitating classification of the wiring as well as maintenance work.
This cable conforms to the RoHS standard.
Shape
Item name symbol
4P TPMC-C5e350 (Color symbol)*1--Length*2
Conductor
AWG24 (7/0.2mm) Soft copper stranded wire
Insulator
Polyethylene
Number of pairs
4 pairs
Sheath materia
PVC
Cord O.D. mm
5.5
Cable color (Color symbol) *1
Green (G) , Blue (B), Red (R), Orange (O), Yellow (Y),
Violet (V), Dark Blue (DB), White (W), Gray (S)
Standard length *2 m
Cable fitted with plug
1.0/1.5/2.0/2.5/3.0/5.0
Individual cable
250 (Bundle winding)
Plug
OKI Cat5e eco-plug (Item name symbol:88SH52A-0107G)
Boots
Eco-clear boots (Item name symbol:MP88 plug boots)
Construction diagram
Outside drawing
Drawing below
*1 :When ordering a cable, specify the color symbol and the cord length (m) (use the length in the above table as a standard).
*2 :We sell this product both fitted with plugs and also as an individual cable (standard length 250m).

*3 :

We also accept orders for link cords consisting of AWG24 (0.5mm) single wire conductors.
Characteristics / Performance