EMI OKIFLEX (Type I/Type II) (UL2935,2384)
Type I: UL STYLE NO.2935 80degrees 300V / Type II: UL STYLE NO.2384 60degrees 30V
Features
This is a cable type OKIFLEX that has a double shield (aluminum laminate tape + braid), ensuring complete EMI(Electromagnetic interface) measures.
Two types (Type I: Standard type/Type II: Thin type), which have different core diameters, are available.This product is environmentally friendly. The insulator and sheath material do not contain specific bromide-based flameire retardant (PBDE or PBB) or the heavy metals Pb, Cr6+, Cd and Hg. They also conform to the RoHS (restriction of the use of certain hazardous substances in electrical and electronic equipment) regulations.
Applications
Ideal for connecting equipment such as computers, peripheral equipment, communication equipment, and office equipment, to each other, particularly in a noisy environment.
Shape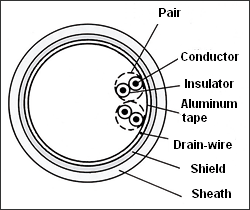 Characteristics example
TypeI
TypeII
TypeI
TypeII
Conductor resistance
Ω/km (20degrees)
222(MAX)
222(MAX)
Characteristic impedance Ω
70(STD)
60(STD)
Insulation resistance -km (20degrees)
1(MIN)
1(MIN)
Propagation delay*1 ns/m
5.7(STD)
5.3(STD)
Withstand voltage Vrms/min
1500(MINI)
1500(MINI)
Near-end crosstalk*1 %
4.6(STD)
4.6(STD)
Capacitance*1 pF/m
102(STD)
105(STD)
Flame retardant characteristics
VW-1
VW-1
*1 : The measured core wire is according to the SG mode (G and the shield are common).
Product name
| | |
| --- | --- |
| Type I (standard type) | EMIFLEX-I( )P SB |
| Type II (thin type) | EMIFLEX-II( )P SB |
* :

Enter the number of pairs according to the type configuration table below in ( ).
Type configuration table
Number of pairs
Conductor
TypeI
TypeII
Insulator O.D. mm
Sheath O.D. (shielded) mm
Insulator O.D. mm
Sheath O.D. (shielded) mm
4
AWG28
(7/0.127)
1.10
6.5
0.80
5.8
5
7.2
6.1
6
7.9
6.5
7
7.9
6.5
8
8.7
7.2
10
9.5
7.3
13
10.0
8.1
15
10.6
8.3
17
11.1
8.7
18
11.1
8.8
20
11.4
9.2
25
13.0
10.2
30
13.4
10.5
32
13.6
10.6