Highly flexible Cat.5e LAN cables
UL Style No.20276 80degrees 30V
This is a high flexibility shielded cable which uses a special polymer and a special shield, realizing innovatively high bending resistance.
It supports Gigabit Ethernet, and realizes 1Gbps high-speed data transmission.
It also supports high-speed data transmission in industrial Ethernet, industrial machine vision, etc.

Standard shielded-type

Screw lock-type
Outline
High-speed camera image transmission formats that use Gigabit Ethernet are standardized.
Oki Electric cable offers the TPMC-C5e (S-HFR) cable as the optimum high flexibility shielded cable for industrial applications which support these high camera image transmission formats.
Applications
Can be used as a LAN cable that supports the 1000BASE-T format (transmission speed 1Gbps).
Is suitable for applications such as robots and FA devices which require high bending resistance and sliding resistance.
Can be used to connect industrial high-speed cameras to terminal equipment, particularly those that support Ethernet.
This cable has an oil resistant sheath, enabling it to be used in severe environments such as those encountered in factories.
Features
This cable is intended for movable applications. It uses high flexibility special polymer insulation and a special braided shield, resulting in high bending resistance and high sliding resistance, and can also withstand twisting motion.
The special braided shield increases noise immunity.
It supports industrial high-speed camera image transmission formats.
It has an oil resistant sheath, making it suitable for use in factory environments, for example.
It can be used with general shielded modular plugs.
Cable construction
Construction and performance
Item
Construction
Item
Construction
Conductor
O.D.
AWG26 twisted wire conductor
Shield
Type
Special braid
Insulation
Type
Special polymer
O.D.
5.4mm
O.D.
0.94mm
Shield
Type
Oil-resistant PVC
Number of pairs
4 pairs
O.D.
6.8mm
Item
Performance
Item
Performance
Max cable length
40m
Rating
30V 80degrees UL-certified product
Characteristic impedance
100 +/-15Ω
Voltage withstand
AC350V-1 min
Loss
24 dB/40m max (20degrees)
Fire retardancy
UL VW-1
Near-end crosstalk loss
30 dB (@ 100 MHz) min
Oil resistance characteristics
JIS K6723
PSNEXT
27 dB (@ 100 MHz) min
Bending resistance
Sliding
3 million cycles (R50)
Return loss
10 dB (@ 100 MHz) min
Bending
0.3 million cycles (R20)
Conductor resistance
14.9 Ω/km max (20degrees)
Twisting
5 million cycles (+/-180degrees)
Performance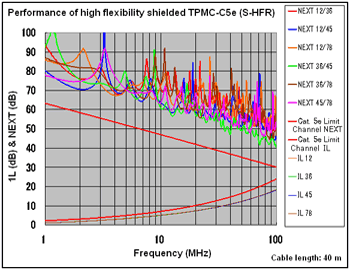 Has adequate performance margin for both crosstalk (NEXT) and loss (IL) with respect to the transmission standard for gigabit Ethernet.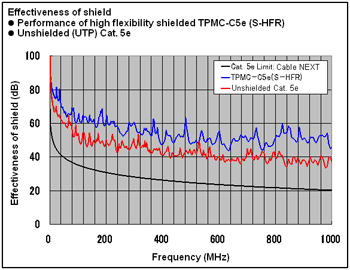 The shielding effect of the high flexibility shielded TPMC-C5e (S-HFR) cable is about 10 dB compared to the unshielded (UTP) Cat. 5e cable.
*1 :

Please contact us regarding compatible modular plugs.

*2 :

The transmittable distance is the channel length.

*3 :

Please contact us for details of the bending resistance.