High sliding 1394.a cable (UL20276)
UL STYLE NO.20276 80degrees 30V
Outline
This 1394.a cable has excellent sliding performance. The maximum cable length is 4.5m, but the cable can be used over a long distance by using it in combination with a 1394 long cable series.
* :

These cables are sold fitted with 1394.a connectors.
Features
Suitable for applications requiring sliding characteristics for wiring in a cableveyor.
High sliding performance is realized by the conductor construction and the cable material.
Applications
Suitable for use in the cableveyors of production equipment.
Suitable for connecting to moving parts, such as to a camera mounted on a robot.
Specifications
UL STYLE
20276 (Rating: 80degrees 30V VW-1)
Connector size
AWG28 (signal wire)
Connector
1394 connector with latch mechanism
Shield
Braided shield
Cable length
0.5m to 4.5m(0.5m intervals)
Sheath
Heat resistant PVC
Transmission speed
100M/200M/400Mbps
Cable O.D.
7.4mm (standard)
Flame retardant characteristics
VW-1
Slide count
5,000,000 times or more(Our test conditions: See below)
Sheath material
PVC
Construction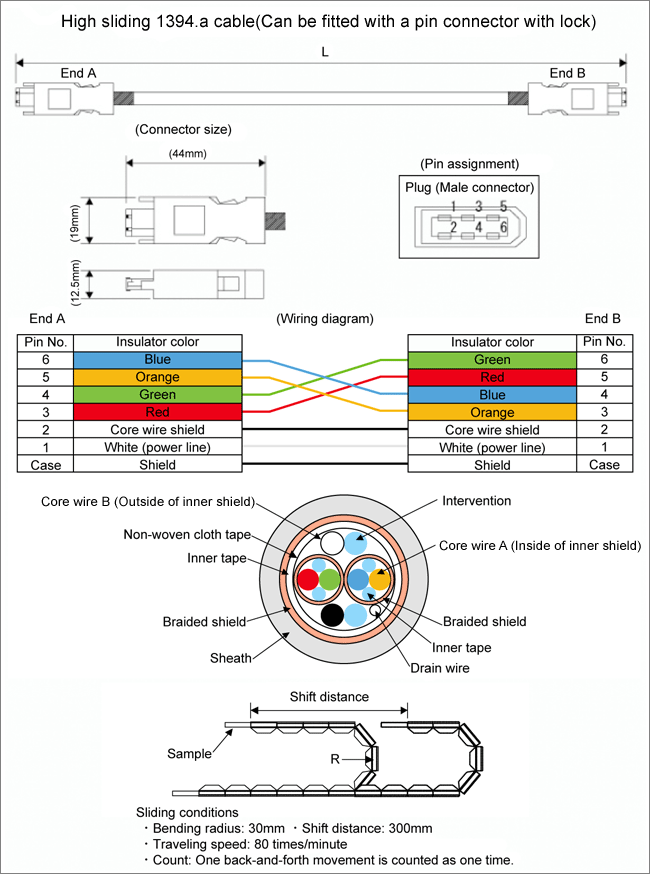 Type
| | |
| --- | --- |
| Item name | High sliding 1394.a cable |
| Type No. | 1394 K1 L=.M |
.
: Enter the cable length. Up to 4.5m in 0.5m intervals