High sliding camera link cable
UL STYLE NO.20276 80degrees 30V
Outline
This is a camera link cable for sliding applications.
It supports high-speed transmission of high resolution images obtained from cameras used on sliding parts of production facilities, and so on.
Features
Conforms to the CAMERA Link interface specifications.
Can be used as sliding parts.
A lineup of power supply type (PoCL) cables is available.
Conforms to the UL standard, and has VW-1 flame retardant characteristics.
Conforms to the RoHS directives.
Applications
Suitable for use in the cableveyors of production equipment.
Suitable for connecting to moving parts, such as to a camera mounted on a robot.
Specifications
| Item | Standard value(AIA) | Our value |
| --- | --- | --- |
| Characteristic impedance (Ω) | 100 +/-10 | 100 +/-10 |
| Skew between pairs (ps/m) | 50 max | 35 max |
| Clock frequency (MHz) | 85 max | 100 max*1 |
| Transmittable distance (m) | 10 max | 15 max |
| Rating | — | 30V 80degrees |
| Flame retardant characteristics | — | VW-1 |
Product lineup
Cable type
Cable color
Cable O.D.
Connector combination
Connector color
MDR/MDR (MM type)
MDR/SDR (MS type)
SDR/SDR (SS type)
MDR
SDR
High sliding cable
Black (Beige)
φ8.0
Black (Beige)
Black
Power supply type high sliding cable
Black (Beige)
φ8.0
−
Black (Beige)
Black
Cable color: Black (standard), Beige (option)
MDR: 1.27mm pitch SDR: 0.8mm pitch
Item name
Cable type (Connector combination)
Transmission formats
Item name
Appearance (For the MS and SS types, a label is applied to the camera side.)
High sliding cable (MM type)
Base/Medium configuration
CL-K-MM-*2
MM type

High sliding cable (MS type)
CL-K-MS-*2
MS type

High sliding cable (SS type)
CL-K-SS-*2
SS type

*2 Cable length symbol : → 1m:010, 3m:030, 5m:050, 7m:070, 10m:100
Name of high sliding type: (B) is added to the end in the case where the cable is colored beige.
Appearance of product
High Sliding performance
Test item
Test conditions
Result
At least 2.50 million sliding operations
Bending radius: 100m
No wire breakage or interference
Shift distance: 1000mm
Traveling speed: 18times/minute
I-pattern measurement
After 1 million sliding operations at 85MHz
See below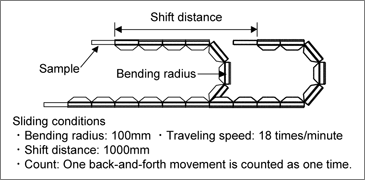 < I-pattern after 1 million test operations >
CL-K-MS-050
* :

This sliding test is our unique test method. The test results are reference values.
Precautions for use
Fully insert the connector. Also, take care that an excessively large tensile force is not applied to the connector.
Switch OFF the power before connecting or disconnecting the connector.
When connecting or disconnecting the connector, pull the connector in such a way that it is parallel to the mating connector. If you gouge the connector, or repeatedly insert and pull it out to an excessive degree, the housing or pins may become damaged.
Do not step on these products.
These cables are intended for high-speed transmission of small signals, so any large noise may result in signal errors. Keep these cables at least 60cm from the location of a possible noise source (air conditioner, electric light, etc.).
Warranty
We cannot guarantee this product if it is used under the following conditions.
Concerning trouble such as the inability of a certain appliance connected to the equipment to operate stably or operate at all
Concerning loss of data, for example, generated during use
Concerning trouble such as a breakdown or trouble in an appliance due to improper use
Concerning trouble that occurred when a non-standard connector was used, for example